Hoopla's Book Club Hub
Before the Coffee Gets Cold by Toshikazu Kawaguchi
Available in Hoopla January–March 2021
Borrow the Ebook | Borrow the Audiobook
About the Book
What would you change if you could travel back in time?
Down a small alleyway in the heart of Tokyo, there's an underground café that's been serving carefully brewed coffee for over a hundred years. Local legend says that this shop offers its customers something else besides coffee—the chance to travel back in time.
The rules, however, are far from simple: you must sit in one particular seat, and you can't venture outside the café, nor can you change the present. And, most important, you only have the time it takes to drink a hot cup of coffee—or risk getting stuck forever.
Over the course of one summer, four customers visit the café in the hopes of traveling to another time: a heartbroken lover looking for closure, a nurse with a mysterious letter from her husband, a waitress hoping to say one last goodbye, and a mother whose child she may never get the chance to know.
Heartwarming, wistful, and delightfully quirky, Before the Coffee Gets Cold explores the intersecting lives of four women who come together in one extraordinary café, where the service may not be quick, but the opportunities are endless.
"Kawaguchi's tender look at the beauty of passing things, adapted from one of his plays, makes for an affecting, deeply immersive journey into the desire to hold onto the past. This wondrous tale will move readers." —Publishers Weekly
Libby's Together We Read
Love Lettering by Kate Clayborn
Available in Libby February 10–24, 2021
About the Book
From February 10–24, check this book out in Libby right away, no holds!
One of the most beloved romantic comedies of 2020, Love Lettering is a heart-melting and touching story that fans of Tessa Bailey, Jen DeLuca, and Emily Henry cannot miss.
In this warm and witty romance from acclaimed author Kate Clayborn, one little word puts a woman's business—and her heart—in jeopardy…
Meg Mackworth's hand-lettering skill has made her famous as the Planner of Park Slope, designing custom journals for her New York City clientele. She has another skill too: reading signs that other people miss. Knowing the upcoming marriage of Reid Sutherland and his polished fiancée was doomed to fail is one thing, but weaving a secret word of warning into their wedding program is another. Meg may have thought no one would spot it, but she hadn't counted on sharp-eyed, pattern-obsessed Reid.
A year later, Reid has tracked Meg down to find out how she knew that his meticulously planned future was about to implode. But with a looming deadline and a bad case of creative block, Meg doesn't have time for Reid's questions—unless he can help her find her missing inspiration. As they gradually open up to each other, both try to ignore a deepening connection between them. But the signs are there—irresistible, indisputable, urging Meg to heed the messages Reid is sending her, before it's too late…
"The perfect quarantine read. It's funny, sweet, and beautifully written. The romance is so perfect it made me ache." —Alisha Rai, Bustle
Overdrive's Big Library Read
The Art of Taking It Easy by Dr. Brian King
Available April 2021 in Libby and Overdrive
About the Book
From a psychologist and stand-up comedian comes a practical, yet laugh-out-loud, guide to embracing humor to reduce stress and live a happier, fuller life.
Dr. Brian King got a degree in psychology before becoming a world-touring comic and the host of humor therapy seminars attended by more than ten thousand people each year. In this brilliant guide, he presents hands-on techniques for managing stress by rewiring our brains to approach potentially difficult situations through a lens of positivity.
To do so, Dr. King explores what stress is, where it comes from, and what it does to our bodies and brains. He delves deep into how to address everyday stress—as well as anxiety, insecurities, repression, and negativity—and gives insight into resulting ailments such as anxiety disorders, depression, hypertension, obesity, substance abuse disorders, and more.
Dr. King's techniques are chemical- and cost-free, and embrace humor, resilience, relaxation, optimism, gratitude, and acceptance. Instead of a dry medical approach to dealing with stress, this unique volume is filled with life-changing tips and instructions presented with humor and a wealth of memorable, smile-inducing anecdotes.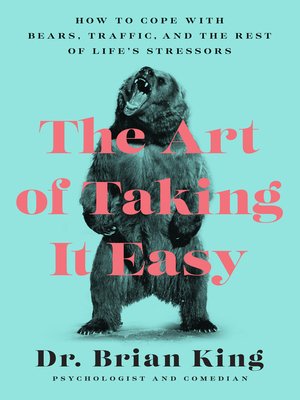 "King's particular approach is original and refreshing. He combines a winning balance of accessible science, engaging stories, and comic relief to drive home a compelling message." –Shelf Awareness
---
Dr. Brian King trained as a neuroscientist and psychologist and for the past decade has traveled the world as a comedian and public speaker. By day he conducts seminars, presented nationwide and attended by thousands of people each year, on positive psychology, the health benefits of humor, and stress management. By night he practices what he teaches in comedy clubs. Dr. Brian began performing stand-up comedy in the San Francisco Bay Area in 2009, and has performed hundreds of shows around the world. He has a bachelor's degree from the University of Texas, a master's degree from the University of New Orleans, and a PhD from Bowling Green State University, and is the author of The Laughing Cure. Dr. Brian hails from New York City and today spends his life on the road, traveling regularly with his partner, Sarah, and their young daughter.