Hoopla's Book Club Hub
Libertie by Kaitlyn Greenidge
Available in Hoopla April–June 2021
About the Book
The critically acclaimed and Whiting Award–winning author of We Love You, Charlie Freeman returns with Libertie, an unforgettable story about one young Black girl's attempt to find a place where she can be fully, and only, herself.
Coming of age as a freeborn Black girl in Reconstruction-era Brooklyn, Libertie Sampson is all too aware that her purposeful mother, a practicing physician, has a vision for their future together: Libertie is to go to medical school and practice alongside her. But Libertie, drawn more to music than science, feels stifled by her mother's choices and is hungry for something else—is there really only one way to have an autonomous life? And she is constantly reminded that, unlike her mother, who can pass, Libertie has skin that is too dark. When a young man from Haiti proposes to Libertie and promises she will be his equal on the island, she accepts, only to discover that she is still subordinate to him and all men. As she tries to parse what freedom actually means for a Black woman, Libertie struggles with where she might find it—for herself and for generations to come.
Inspired by the life of one of the first Black female doctors in the United States and rich with historical detail, Kaitlyn Greenidge's new and immersive novel will resonate with readers eager to understand our present through a deep, moving, and lyrical dive into our complicated past.
""Pure brilliance. So much will be written about Kaitlyn Greenidge's Libertie—how it blends history and magic into a new kind of telling, how it spins the past to draw deft circles around our present—but none of it will measure up to the singular joy of reading this book." —Mira Jacob, author of Good Talk: A Memoir in Conversations
Libby's Together We Read
Love Lettering by Kate Clayborn
Available in Libby February 10–24, 2021
About the Book
From February 10–24, check this book out in Libby right away, no holds!
One of the most beloved romantic comedies of 2020, Love Lettering is a heart-melting and touching story that fans of Tessa Bailey, Jen DeLuca, and Emily Henry cannot miss.
In this warm and witty romance from acclaimed author Kate Clayborn, one little word puts a woman's business—and her heart—in jeopardy…
Meg Mackworth's hand-lettering skill has made her famous as the Planner of Park Slope, designing custom journals for her New York City clientele. She has another skill too: reading signs that other people miss. Knowing the upcoming marriage of Reid Sutherland and his polished fiancée was doomed to fail is one thing, but weaving a secret word of warning into their wedding program is another. Meg may have thought no one would spot it, but she hadn't counted on sharp-eyed, pattern-obsessed Reid.
A year later, Reid has tracked Meg down to find out how she knew that his meticulously planned future was about to implode. But with a looming deadline and a bad case of creative block, Meg doesn't have time for Reid's questions—unless he can help her find her missing inspiration. As they gradually open up to each other, both try to ignore a deepening connection between them. But the signs are there—irresistible, indisputable, urging Meg to heed the messages Reid is sending her, before it's too late…
"The perfect quarantine read. It's funny, sweet, and beautifully written. The romance is so perfect it made me ache." —Alisha Rai, Bustle
Overdrive's Big Library Read
The Quiet Girl by S. F. Kosa
Available June 28–July 12, 2021 in Libby and Overdrive
About the Book
Good girls keep quiet. But quiet girls can't stay silent forever—and the consequences are sure to make some noise.
When Alex arrives in Provincetown to patch things up with his new wife, Mina, he finds an empty wine glass in the sink, her wedding ring on the desk, and a string of questions in her wake. The police believe that Mina, a successful romance author, simply left, their marriage crumbling before it truly began.
But what Alex finds in their empty cottage points him toward a different reality: Mina has always carried a secret. And now she's disappeared.
In his hunt for the truth, Alex comes across Layla, a young woman with information to share, who may hold the key to everything his wife has kept hidden. A strange, quiet girl whose missing memories may break them all.
To find his missing wife, Alex must face what Layla has forgotten. And the consequences are anything but quiet.
In her debut thriller, S.F. Kosa presents a tightly-woven book sure to inspire questions about trauma, memory, and how well we ever know the people we love.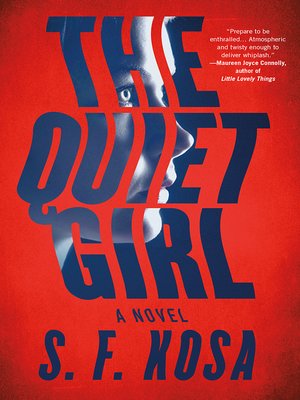 "Prepare to be enthralled - The Quiet Girl will grab your emotions and then hang on with a death grip. Atmospheric and twisty enough to deliver whiplash, S.F Kosa writes with a keen eye for detail and surprise endings. A compelling narrative that hums with momentum long after the reader is done." –Maureen Joyce Connolly, author of Little Lovely Things
---
S.F. Kosa is a clinical psychologist with a fascination for the seedy underbelly of the human psyche. Though The Quiet Girl is her debut psychological suspense novel, writing as Sarah Fine, she is the author of over two dozen fantasy, urban fantasy, sci-fi, and romance novels, several of which have been translated into multiple languages. She lives in Massachusetts with her husband and their (blended) brood of five young humans.